PENTAFLEX-UNIVERSAL®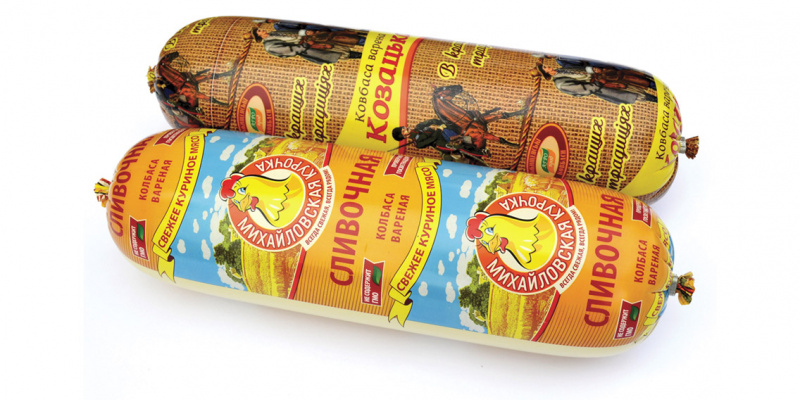 It is classic sausage casing, which is used for wide range of meat products. Pentaflex Universal is oriented for use on automatic and semi-automatic equipment. Sausages, packed in Pentaflex Universal, have a straight and smooth surface. It is delivered in reels or in shirred sticks, which contain 25-40 meters. According to customer's wish, casing can be printed in different colors. We use certificated safe paints with resistance to high and low temperatures and endurance to mechanical damages.
Pentaflex-Universal type Slicing - casing is used for packing of all kinds of cooked sausages and hams with subsequent removal of casing from sausage after cooking. Longitudinal break of casing allows quickly to take off a casing from sausage without damaging of surface of sausage. It is convenient as for a customer so for slicing and packing of sausage in vacuum or in modified environment.
Pentaflex-Universal type St - casing is used for pasteurization and sterilization of product in casing.
Characteristics
Pentaflex Universal®
Calibers (mm)
34-120
Overstuffing %
Meat food with soaking
10-11
Overstuffing %
Meat food without soaking
-
Shirring
+
Colours
>22
Shape
straight
Solvent printing (4+0) one-sided, two-sided
+
Solvent printing (6+6) two-sided
+
UV printing (6+6) two-sided
+
| Using | Pentaflex Universal® |
| --- | --- |
| All kinds of boiled sausages | + |
| Liver sausages | + |
| Blood puddings | + |
| Pate | + |
| Hams | + |
| Headcheese | + |
| Chopped meat (meat mince) | + |
Send inquiry